Call Jacob at (251) 753-9592 to schedule an appointment any day of the week.
Piano Moving

The most affordable prices around.
Prompt, thoughtful service.  We call when we are coming, arrive on-time and tell you how long we will take.  We know you are busy.

Storage Options Available.

Fully insured and licensed.

Full Service Piano Technician trained in piano moving by legends of the trade.

We use the very best equipment and techniques to ensure the safety of your home and your precious piano.

We are the official piano movers for the Steinway Eastern Shore (steinwayes.com).  We move pianos for the Saenger Theatre, The University of Mobile, and The University of South Alabama.
Piano Tuning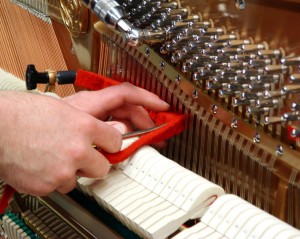 We bring the very best piano tuning technology to bear for the greatest accuracy and so you don't have to pay for tunings as often.

Prompt.  We will be there on-time, contact you when we are on our way, and let you know how long it will take.

Focused on giving great value for your dollar.  If we can fix something easily we don't charge extra.

We offer full-service, focused on preventing problems like sticking keys before they become a problem.  We do a full inspection of every piano and make what adjustments we can for no extra money.
Piano Repairs
Experienced and well-trained technician.
If we can't fix it (very rare) we will find you someone who can.

Focused on giving great value and quick turnaround.

Quote a price range to save you money if a job is easier than expected.

We use the best tools made for the job we are doing.
Piano Regulation
Piano regulation is the process of realigning the internal working components of a piano for optimum performance.

As grooves wear in the felt hammers and wood expands and contracts parts become misaligned.  Imagine a golfer trying to play with one high-heel and one golf shoe on.  The golfer will lose her touch.

A properly regulated piano will allow the pianist to play loudly and, more noticeably, very softly.

The keys are level and the piano feels the same across the entire scale, so the pianist can really express themselves through their instrument.